Green Bay Packers at San Francisco 49ers
The 49ers and Packers both have great championship traditions but only one can move onto the NFC Championship. The 49ers come into the game as the favorites and enjoy the home-field advantage, but also have to face the healthiest version of the Green Bay Packers since the first day of the season. Charles Woodson, Clay Matthews, and Donald Driver should all be available for tonight's game which makes the Packers much more difficult to pass against and deeper on the other side of the ball.
Aaron Rodgers has not received the type of attention that he usually gets this week as most of the attention has been on rookie Colin Kaepernick and how he will deal with the playoff pressure. Kaepernick has come off the bench and has proven to be the catalyst that Jim Harbaugh and the 49ers need. The Packers have the talent on defense to slow down the 49ers running game with B.J. Raji, Matthews, and A.J. Hawk.
The Packers will face the 49ers dominating defense which during the regular season was fourth against the run and the pass. The 49ers have three first-team All-Pro in Navarro Bowman, Patrick Willis, and Dashon Goldson. The way the Packers will win the game is by attacking the cornerbacks by spreading the field and running an up-tempo attack to tire Aldon and Justin Smith. The Packers might be underdogs but they have the big game players that the 49ers lack. Packers 27, 49ers 19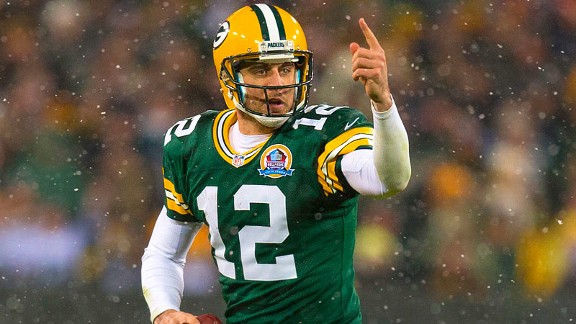 Rodgers knows that only one team can advance