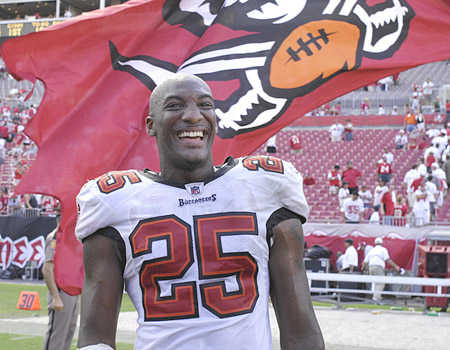 This is probably how Talib reacted when he was told he was now a Patriot.
The Patriots needed help in the secondary and got it during their bye week by trading for Aqib Talib. The question everyone is asking is he worth a fourth round pick especially with his history of legal transgressions. Talib will be worth the risks.
Talib's Troubles
First off,
Talib has made some very poor choices
. Click the previous sentence to see a timeline of his trouble's since entering the NFL put together by the Tampa Bay Times. The first two issues are fights that occurred with teammates in 2008 and 2009. On these two occasions, Talib has said that he needs to work on his temper. I would also toss into the mix his maturity level.
The next issue in which Talib physically assaulted a cab driver while the cab was on the highway. This is one is just plain dumb and Talib's fault. This is one reason why he has a bad reputation because this idiotic story. He deserves this one. The next transgression is an altercation with an NFL official after a tough loss. His coach at the time, Raheem Morris, said Talib did nothing wrong.
The worst issue upon first glance was this one:
March 2011: Talib and his mother, Okolo, are charged with aggravated assault with a deadly weapon after an altercation with the live-in boyfriend of Talib's sister. Talib is accused of firing shots during an argument on a residential street. TAMPA BAY TIMES
But those charges were dropped because the witness was not credible. The boyfriend of Talib's sister was allegedly two-time sex offender and in the weeks before this incident had been arrested for domestic abuse of the sister (WEEI's Dennis and Callahan). So this goes down as another terrible decision but he was sticking up for his sister.
Talib's head coach at Kansas, Mark Mangino had this to say about Talib in the
Boston Herald:
"I just think if you look at it from the outside, you'll say, 'Boy, this guy is a real problem,' " Mangino said. "If you get to know him, you get to coach him, you get to be around him every day, you get to interact with him, you'll say, 'Hey, this guy isn't who I thought he was.' People that think he's a bad person, after they meet him, they say, 'Well, he's an awesome guy.'
"I'm confident. I have my utmost confidence in him that he is going to do some fantastic things in New England, and it's going to be a good marriage."
Talib on the Field
Def Interceptions
Fumbles
Tackles
Year
Age
Tm
G
GS
Int
Yds
TD
PD
FF
FR
Tkl
Ast
2008
22
TAM
15
2
4
32
0
9
14
6
2009
23
TAM
15
15
5
99
0
14
0
1
56
8
2010
24
TAM
11
11
6
91
1
11
38
1
2011
25
TAM
13
13
2
55
2
11
1
0
31
4
2012
26
TAM
4
4
1
0
0
7
20
1
Career
58
45
18
277
3
52
1
1
159
20
The NFL Network's Michael Lombardi told WEEI's Dennis and Callahan that when Talib shows up after his suspension is over, he will be the best cover corner on the roster.
Talib is tall, athletic and has the rare ability (at least on the Patriots roster) to turn for the ball. Although he has only played four games this season he would be second on the Patriots with seven pass breakups. Last season, Talib played 13 games and he picked off two passes and returned both for touchdowns. Take a look at his career numbers above. He is a playmaker and right now the Patriots need that more than anything else.
The biggest plus for this move is that Devin McCourty will most likely stay at safety. If you listen to sports talk radio or read about the Patriots, fans are down on McCourty but this move will be a positive one. I like McCourty's talent and he will be used best as a free safety. He has ball skills and he can tackle. His athleticism will make a difference defending the deep ball that has beat the Patriots so often this season.
Give this move some time to come together but it is obvious that Bill Belichick and the Patriots want to win right now and getting a corner that has a chance to cover the big-time receivers one-on-one is a huge deal. The Colts game takes on an even more interesting spin. Talib will get his chance at helping to shut down Andrew Luck, who looks like a star.