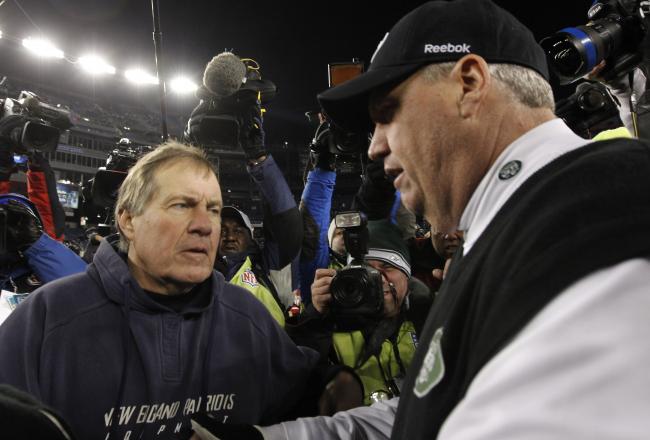 These two get a lot of coverage, but play on field will make the difference
New York Jets (3-3) @ New England Patriots (3-3) 4:25 p.m.
It seems as though the New York Jets are trying a new tactic in the lead up to games against the Patriots. They are being complimentary and keeping the bulletin board material to a minimum. It doesn't seem right and worries me a little. Could the Jets actually sneak up on the Patriots?
The Jets have been in the news for only a couple reasons this year: Rex Ryan's weight loss, Tim Tebow and the team's poor play. All season the Jets have been talked about as a walking dead team that should just pack it in and start Tebow. The only thing wrong with that is the fact that they have the same record as the other teams in their division. Less hype in this case could be a negative for the Patriots.
Overall, the Patriots have more talent than the Jets especially with their injuries to key players. But I have said that same thing about the Cardinals and Seahawks. Hopefully, the Patriots can see that this game is incredibly important in winning the division and getting a decent seed in the playoffs.
The Patriots seem to be set up to have a big win against their division rival. The Patriots have decided advantages when the Patriots run as the Pats are ranked 4th in rushing yards and the Jets are ranked 28th in opponents' rushing yardage. Secondly, the Patriots rank 5th in opponents' rushing yardage, while the Jets are ranked 15th in rushing. The Patriots should be able to have a good pass-run balance this week. Stevan Ridley could end up having a big game.
The Patriots pass defensive is dismal as we all know but so is the Jets pass offense. It currently ranks 30th in the NFL. One of the keys that I see for this week is keeping an eye on Tim Tebow. He could line up anywhere on the field. There has been a lot of talk of having him play running back this week. My key concern would be trick plays, and wildcat situations. The Jets offense doesn't have the weapons to throw deep on the weak Patriots secondary like other teams have done.
On paper, the Patriots should win this game going away. I still see this game being won by the Patriots but it will be a 10-point margin of victory.
Patriots 31, Jets 21
NFL Week 7
Last week: 4-8 Season: 47-41
49ers over Seahawks
Bills over Titans
Giants over Redskins
Saints over Buccaneers
Cowboys over Panthers
Texans over Ravens
Colts over Browns
Packers over Rams
Vikings over Cardinals
Raiders over Jaguars
Bengals over Steelers
Lions over Bears
BYES: Falcons, Broncos, Chiefs, Dolphins, Eagles, Chargers