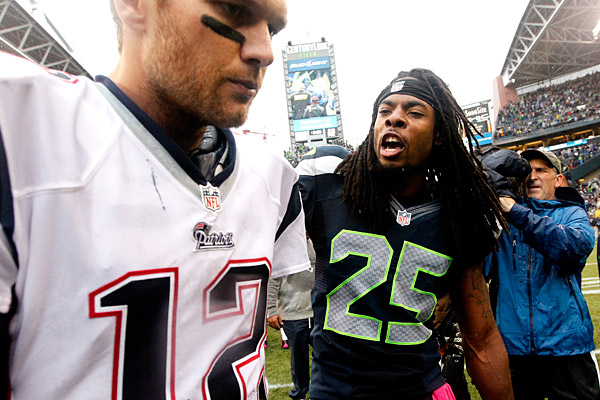 This picture should make the Patriots sick.
"Me and (safety

Earl Thomas) walked up to him and said, 'We're greater than you. We're better than you. You're just a man -- we're a team,'" [Richard] Sherman told the News Tribune. "That's the Brady Bunch; this is a defense. We've got 11 players out there to play great ball, and we're never going to let one man beat us. It's not just about one man. If they've got 11 players out there on offense, then they're one hell of a team." Source
Take a look at the picture above and read the quote from the Seahawks Richard Sherman. I purposely did not write this post yesterday because I did not want to be as emotional and reactionary as I would have been. Still, two days after the game I am fired up about the trash talk and this picture. Sherman has the right to trash talk because his team won the game but the Patriots should tape this picture everywhere at Gillette Stadium and accompany all of the Seahawks' quotes with it. The Patriots should have some extra motivation to get things on track.
Defensive Backs
The Patriots could have a special team this season but I do see a number of problems. First up is the the obvious one and that is the defensive secondary. Basically, the Seahawks decided to throw the ball deep downfield and then hoped for good news. The problem for the Patriots is that they either were beat deep or they were called for pass interference. So far this season the Patriots have let up 33 pass plays over 20 yards which as you can guess is last in the NFL by a large margin.
The Patriots secondary has issues but it is very young as well. Growing pains are going to be part of their game but at this point Kyle Arrington and especially Devin McCourty have to be able to turn for the ball to make a play. As anyone that watches the game can see, receivers tell the corners when to turn with their eyes and their arms. The Patriots have not apparently figured that out. Another thing is the lack of play-making ability on defense. McCourty, Arrington, and Patrick Chung have shown flashes to make big plays but all three have been incredibly inconsistent. They are maddening to watch and I bet to coach as well. That leads me to my next point. Are these guys not capable of playing solid pass defense. If not then the personnel department is at fault. If they do have the talent, then the coaching staff must take the blame because their instruction isn't being heard.
Patriots Offensive Issues
In their three losses and the game against the Broncos, the Patriots offense has failed to shut the door on a comeback. At times, the offense seems to fall in love with passing the ball. Tom Brady is a hall of fame-caliber player and should carry a large part of the blame and responsibility. On the other hand, he shouldn't have to throw more than anyone else in the league especially with a leaky offensive line. The Giants, Cardinals and Seahawks have shown that the line is not good enough to continue to pass block that many times. So Brady is dealing with pressure and is not handling it well. I never thought I would say this but Brady looks a lot like Drew Bledsoe now when he deals with pressure. He has stone feet and looks scared of the hit. Something has to be changed in this and he doesn't throw to his running backs as much anymore. Speaking about running backs, Stevan Ridley has the 5th most rushing yards in the entire league but on Sunday he only got 16 chances. I understand only gaining 34 yards on those carries is ridiculously bad but feeding him the ball more will benefit Brady and the offense. By giving him the ball in different situations and using him in the screen game, the pass rush will be cut down. He has talent and should be used.
Overall Team and Coaches
In the first half, the Patriots have to take the points that they can get. Brady's intentional grounding to end the first half Sunday was terrible but it shouldn't have come to that. The field goal unit should have been out there to pad the lead going into half time.
The Patriots are a cerebral, quiet team that goes about their business in their own way which is great most of the time. My main gripe about them is that their fire or swagger isn't on the same level as the other teams. They had it when they were champions but can you honestly name a guy that is like Lawyer Milloy, Ty Law, Rodney Harrison or Tedy Bruschi? You can't. Each one was a great talent but they also played with an attitude that was unmistakable. Where is that? To be a bad ass team, you need to think you are a tough S.O.B. that will not take crap from anyone. Logan Mankins is the one player that is like that.
Why are the Patriots letting off the gas when they get a good lead? That is the time when it seems they go into cruise control. I am a believer that you never take your foot off an opponents' throat in pro sports until time runs out or you are pried off your opponent. One reason could be that this is the youngest Bill Belichick-coached Patriots team of his tenure. Immaturity could be a factor. The good thing is that they should get better as the season goes on.
Starting out 3-3 in their first six games could be a blessing for the Patriots. They will have to fight for their life each week which will ask a lot from them in preparation and on Sundays. Maybe this is what they need to give just a little extra in the film room, and on the field. I truly believe they can be a special team when they are clicking. They have their issues but I'm giving them time to see what they have. You should do the same.