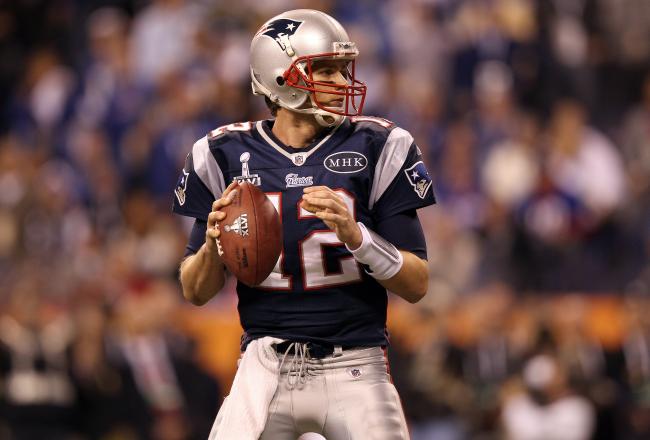 After watching Tony Romo's 5 interception performance and Jay Cutler walking away from his offensive coordinator like a teenager ignoring his mommy, it made me think about how lucky the Patriots have been to have a quarterback like Tom Brady.
The point was really hammered home on my ride to work when one of the Boston radio shows was talking about Brady and how he has changed throughout the years. How he has not won a Super Bowl since he has been with Gisele, and how he is not at the stadium every day in the off-season and how that has effected him. It's not just the dumb callers that feel he shouldn't leave Gillette. Radio hosts, writers, and regular non-talk radio fans have been heard saying those same things. Some of those same people mention that he is declining because of his age.
These conversations lead me to two questions:
1. WHAT ARE THESE PEOPLE ON?
AND
2. DO THEY EVEN WATCH THE GAMES?
Patriots fans, talk show callers, and the experts have to take a step back and appreciate his greatness. Even though he has not won a Super Bowl in a while, he has had his team in position to win both of them that they lost against the Giants. It can be argued that Brady has not been the same guy in the postseason and that is fair but he has done an incredible job of winning in the post season.
The thing that pisses me off is that Brady can have a game like he did in Buffalo (340 yards, 3 TDs) and still there is talk about him not being as dedicated or as good he once was. Take a look around the league Patriots fans and followers and ask yourself how many of the quarterbacks you would take over Brady even in his mid-30's. Maybe Drew Brees or Aaron Rodgers? Any others that you come up with are just foolish or are banking on potential.
I wonder how the Dolphins fans felt when Dan Marino was getting older (by the way, he was not even close to as good as Brady is at the same age)? The Dolphins haven't had a good quarterback since he retired in 1999. Over a decade and still they haven't had anyone decent. The Patriots could easily be in this bind in a few years.
My advice is to stop complaining about what Brady is not or what he does not do and focus on everything that he does do. He might just be the best quarterback to ever live. When he is inducted into the Pro Football Hall of Hame, you will reflect back at how amazing his career was and lament that you did not enjoy it enough when you had the chance.