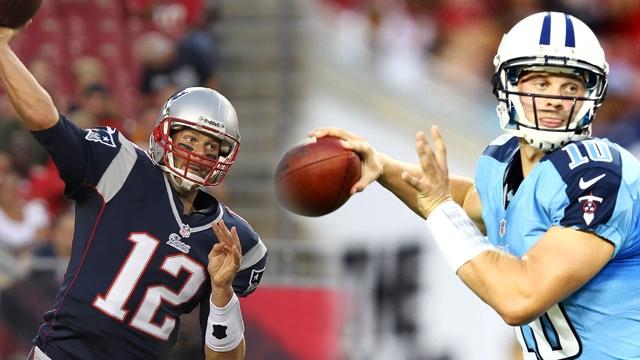 Brady and Locker cross paths tomorrow (source)
New England Patriots @ Tennessee Titans
How will the Patriots beleaguered offensive line handle week 1?
The Patriots offensive line has been pretty solid in Tom Brady's career and is one reason he has been able to become one of the best. This offseason saw them lose Matt Light to retirement, and Brian Waters to a possible retirement/hold out. Not to mention that Logan Mankins is just now coming back from his ACL tear. Oh right, I forgot to mention that Dan Koppen the Pats longtime center was cut at the end of training camp. The starters read like this from left to right: Nate Solder (LT), Logan Mankins (LG), Ryan Wendell (C), Dan Connolly (RG), Sebastian Vollmer (RT). Vollmer is solid when he is healthy but that has been his issue. His back problems date back to college and have kept him out of most if not all the Patriots practices. Marcus Cannon, the backup right tackle, has had a rough training camp and could be a weak link if he plays for Vollmer. The one thing the Patriots have is line coach Dante Scarnecchia. He has been the man behind those great lines that I mentioned before. The more time moves on the more prepared they will be.
How much of a challenge will the Titans present the young Patriots D?
The Patriots were second to last in total defense last season. The Patriots did use their draft picks to bolster their defense. Those players include Chandler Jones, Dont'a Hightower, and Tavon Wilson. All three of those players will get a significant number of snaps in Knoxville. Hightower and Jones will be keys to the season and week 1 will not be any different. The Patriots catch a break that Kenny Britt, the top Titan receiver, is suspended and will not play this week. Nate Washington and rookie Kendall Wright are solid and should be a challenge for the Patriots defensive backs. If the Patriots get pressure on Locker then the game is in the bag, if not Locker and Co. will make week 1 something to forget for the Patriots.
Behind Enemy Lines: Tennessee Titans
#28 Chris Johnson, Running Back
2011 Stats: 262 carries, 1048 yards, 4 TDs, 57 receptions, 418 yards receiving
Last season, Johnson held out and when he did show up he was out of shape. He didn't gain more than 64 yards in the first 8 weeks. That was last season. Johnson is reportedly in great shape again and he is looking forward to a bounce back season. The Patriots could be worried about this and should focus on stopping him. Bringing Patrick Chung into the box would allow the Titans some chances to throw the ball, but Kenny Britt is suspended for this game which hampers Jake Locker and the Titans. Johnson's last game against the Pats was a blowout loss (59-0 in '09), but he did gain 128 yards on 17 carries. Johnson will reportedly be more involved in the passing game this season which would add to his value. There are not many guys that can stay with Johnson in the open field.
#95 Kamerion Wimbley, Defensive End
2011 Stats (Oakland): 63 tackles, 7 sacks, 1 INT
Wimbley is a key player for the Patriots to stop because of his pass rush ability from the defensive end position. As a Raider for the past two seasons, Wimbley had 16 sacks, a respectable number for the former first round pick of the Browns. He is by no means Reggie White but because of the uneven performance of the Patriots O-Line, Wimbley could wreak havoc in the Patriots back field. Watch for Wimbley to move around to exploit matchups. If he is negated for most of the game by solid line play then the Patriots could hand a beating to Tennessee.