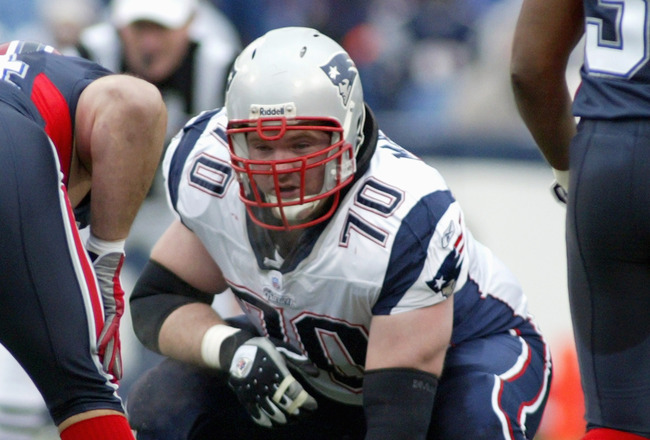 Logan Mankins did not make the trip to Buffalo.
New England Patriots (1-2) @ Buffalo Bills (2-1) 1 p.m.
After three weeks, the Buffalo Bills have a better record than the Tom Brady-led Patriots. That was a tough sentence to write but after this week they could be tied. The Patriots will have to do so without the services of their best offensive lineman, Logan Mankins. Mankins did not travel with the team to Buffalo because of his hip injury that he sustained before the Ravens game.
On paper, the Bills have one of the best defensive lines in the NFL. In the offseason, the Bills added all-world defensive end Mario Williams and former defensive rookie of the year, not to mention former Patriot, Mark Anderson, in free agency. Those two bookend the defensive line but their best players might just be their two tackles, Marcell Dareus and Kyle Williams. Those four could really cramp Tom Brady's style in the pocket if the Patriots line can't matchup.
Nick McDonald or Donald Thomas will most likely play in Mankins' left guard spot. Both have shown flashes of promise but are backups for many reasons. The good news is that they both practiced all week. If Sebastien Vollmer can play the majority of the snaps at right tackle, then Marcus Cannon might also be an option at guard.
The Patriots offense outclasses the Bills defense when it comes to the skilled positions especially with Rob Gronkowski apparently trying to play through his injury.
The second biggest injury news to hurt the Patriots chances was the revelation that the Bills starting running back, Fred Jackson, was cleared by team doctors to play Sunday. He is listed as questionable for the game but his return is a solid boost. The Patriots defense will need to redeem itself after a tough loss to the Ravens last Sunday night.
Devin McCourty will be under the gun against the Bills top target, Stevie Johnson. McCourty dropped what could have been two game-changing interceptions last week against the Ravens. If he is anything like the player he was as a rookie, he should be in line for a bounce back game.
My forecast for this game has been muddled now that Mankins is out, but I still give the Patriots a slight edge. Patriots 31, Bills 30
Week 4 Picks
Last week: 5-11 Season: 24-24
Ravens over Browns
Falcons over Panthers
Vikings over Lions
Chiefs over Chargers
Seahawks over Rams
49ers over Jets
Texans over Titans
Bengals over Jaguars
Cardinals over Dolphins
Broncos over Raiders
Packers over Saints
Buccaneers over Redskins
Giants over Eagles
Cowboys over Bears
BYES: Colts, Steelers