From this picture, maybe he made the right decision to retire.
Robert Gallery
, the man that was supposed to fill in for the injured Logan Mankins at guard, has retired. Gallery, 32, was having a difficult training camp thus far. According to
ESPN Boston's Mike Reiss
, Gallery was thrown to the ground by Vince Wilfork in one-on-one drills. Reiss said that play incapsulated Gallery's camp struggles.
Gallery was the second pick in the 2004 draft right after Giants' quarterback Eli Manning. Gallery was hyped as a cornerstone left tackle prospect but he played most of his time at guard. He played seven seasons with the Raiders, and last season with the Seahawks.
With Gallery's retirement, the Patriots will be pretty thin at guard until Mankins and Brian Waters come back. In Waters' case, that might not be a given because of his possible retirement. For now the Patriots will have Dan Connolly, Ryan Wendell, and Donald Thomas at the guard spots. If the Pats feel as though they need to add a guard or two for depth during camp there are some well-known veteran players out there. They include: former Dolphin, Vernon Carey, former Colt, Ryan Diem, and former Cowboy and Raven, Andre Gurode.
The Patriots are lucky in one respect and that is their coach for this position, Dante Scarnecchia, is among the best in the league. The timing of this retirement works all right because their is still time to figure out what the lines needs will be.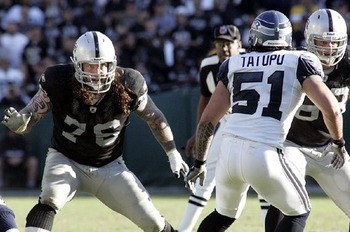 Gallery as a Raider